Quince – the fatter, uglier sister of the pear has come back into vogue in the last few years, thanks to a number of gourmet cooks and their delicious jams, pastes and desserts.  It must be pointed out at this stage that uncooked quinces straight from the tree a darned near inedible…tough, stringy and a bit tart (a bit like my Aunty Beryl). To truly enjoy a quince, one must stew, cook, poach or slowly simmer the fruit for as long as possible, until the flesh changes to a stunning ruby red.
The quince (or Cydonia oblonga to those of us in the know) is a gorgeous deciduous tree growing to a respectable 4m x 4m in most residential settings.   When thinking about a quince (which I am sure we all do often) it is important to remember that these trees are generally very long lived, and don't take to kindly to being shifted, so plan your position well.  A tree in the right spot will reward you with amazing, ancient-looking gnarled branches – a fabulous feature with or without the fruit!
The foliage is a stunner as well, with the green, heart-shaped leaves having a lighter, slightly furry underside.  The beauty of growing a quince in the colder areas of Australia is that they can put on quite a show as the leaves colour through autumn.  Oh, and they don't mind periods of dry either…could this be the perfect plant?
Full sun is the order of the day for your quince, and, in our part of the world, protect these guys from frosts, as they just don't like it and it can harm fruit set.  Quinces adore a soil that has a fair bit of organic matter incorporated, so on our soils, grab some compost and prepare the hole before planting.  A bit of a feed once or twice a year with some compost, aged manures or blood and bone is all a quince will need.
Pruning of quinces is much the same as for other deciduous fruit trees (think pears, apples etc) and the earlier in the quinces life you can establish a shape, the better.  Pruning should be minimized as the quince gets older, as they fruit on the current season's growth, and constant pruning may see a severe lack of fruity goodness.
If you are thinking of acquiring a quince, here is the quincessential guide to the varieties readily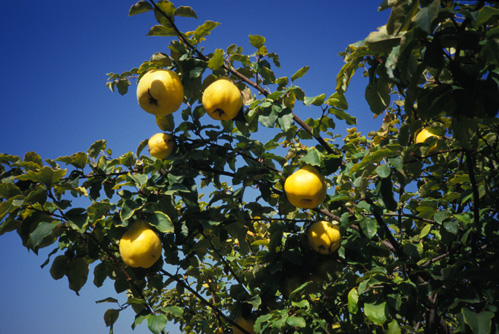 available at many nurseries:
Smyrna: This Turkish delight bears very large, golden yellow pear-shaped fruit on an attractive large shrub/small tree.  The foliage is also quite large and very attractive.  Cooked, Smyrna fruit is highly fragrant and quite firm, making it a great choice for pastes.  A very popular quince with lovely flowers.
Champion: Born in the USA, this quince resembles a fat pear, the fruit a greenish yellow changing to golden when ripe.  The colour of this fruit when cooked is amazing, the flesh tender, and the flavour milder than some other quince varieties.
Angers: An attractive, smaller tree (to around 2.5m), Angers is a French type Quince.  The fruit is flavoursome, although a bit harder than some other varieties, but cooks well.  One BIG advantage of this little tree is that the fruit stores for longer than most.